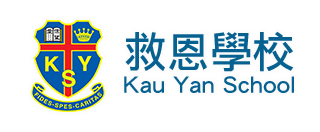 「小一入學申請系統」
Primary One Admission Application System
申請須知 Guidelines on Application
申請入學程序:
透過本校官方網頁連結「小一入學申請系統」(下稱「系統」)。首次使用者請先開設個人戶口,以便跟進申請表格。
利用個人戶口登入「系統」來填寫「申請入學表格」。系統將顯示一個「申請編號」,入表者應記下個人此編號作日後查詢或繳費之用。
請預備以下文件:(每個檔案最多10MB)

申請者證件相片(格式需為JPG格式。)
申請者的出生證明書或香港身份證之副本(如申請者並非持有出生證明書或香港身份證,請附上護照副本,格式需為PDF格式。)
申請者K1下學期及K2上學期成績表或成績報告副本(格式需為PDF格式。)
申請者的其他學習經歷或生活情況記錄(最多為8單面頁A4PDF格式。)
報名費收據 (報名費為二百元正,並請以櫃員機入帳)
入帳步驟:

請將報名費入帳到以下戶口:
銀行名稱:香港上海匯豐銀行:
戶口名稱:Kau Yan School:
戶口號碼:004-020-056461-001:【如香港上海匯豐銀行戶口持有人,過數時不用輸入(004)】

列印收據後,請在收據上寫上「申請編號」,例:P20209999

填寫步驟:
登入「小一入學申請系統」,並按步驟填寫表格及上載有關的文件及相片,最後需按「確定申請」才完成申請程序。
截止網上申請日期:二零一九年七月二日(星期二)下午五時正。
通知面試日期及時間:二零一九年八月二日(星期五)上午九時正,登入「小一入學申請系統」之個人註冊戶口。
Application Procedures
Access to the 'Primary One Admission Application System' is through our official school webpage (https://www.kauyan.edu.hk/primary/admissions/p1/). If you are a first time user, set up a personal account that allows you to refer to your application in the future.
Log onto your personal account to fill in an 'Admission Application Form'. Once the application form is completed and submitted, an 'Application Number' will be generated. It is important to note down this number for any future inquiry or fee submission.
Please upload the following documents (each document has a size limit of 10MB):
Travel document photo of the applicant (JPG format only)
A photocopy of the applicant's birth certificate or Hong Kong identity card (PDF format)
In cases of non-established permanent residency status shown in the birth certificate OR in the absence of a Hong Kong birth certificate, a photocopy of the travel document(s) or permit to remain in Hong Kong (i.e. passport) is required.

Photocopies of the applicant's transcripts and/or report cards for K1 Second Term and K2 First Term (PDF format)
Documents that exhibit the applicant's other learning experiences and/or daily life (Maximum EIGHT A4 pages in PDF format)
A photocopy of the payment receipt for the HK$200 application fee
application fees are payable through the ATM to the following account:
Bank Name: The Hong Kong and Shanghai Banking Corporation (HSBC)
Account Name: Kau Yan School
Account Number: 004-020-056461-001 [If you are a HSBC account holder, you may skip this code(004)]
* request for a payment receipt and ensure that the 'Application Number' is properly printed on it (e.g. P20209999)
* keep the receipt for the application submission

Once you have completed the application process and uploaded all the required documents, be sure to click 'Confirm Submission'.
Important Dates
Deadline for online application : 5:00 p.m. on July 2, 2019 (Tuesday)
Notification of interview date and time : 9:00 a.m. on August 2, 2019 (Friday)
* Please check by logging into your personal account.
---